What is Google Knowledge Graph?
Google as a search engine has constantly evolved. The search results have become more intuitive and aim to present to the user most relevant information. Google Knowledge Graph is a result of this constant need to provide the most relevant answers to the searcher.
The need for relevant results to the questions asked by users has lead to the creation of Knowledge Graph. Today whether you are looking for running shoes for men or nearest sports shop in your neighbourhood, as someone seeking answers to your questions; you will more often than not use a search engine.
The Knowledge Graph is the next step in providing the best results for a search. Today Google just doesn't give results based on matching keywords but also results that answer the user intent. Suppose you search for the inspiring and entertaining movie,' Sultan', on the right side of the SERP you will see a box giving details about the movie.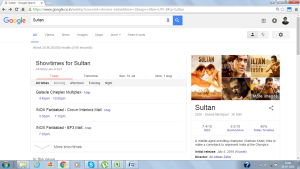 You will see results like this when you search for popular personalities or anything for which Google can show results like this. It depends on the information available related to a particular topic, product or service.
Getting showcased through Knowledge Graph can really boost the traffic to a website.
Google Knowledge Graph is a "link graph" showing how information available to persons, people and places is related. It treats the search term as an entity rather than a keyword and shows the capsulated information to the user.
In the next article we will discuss how to optimize for a Knowledge Graph.