Way to implement Knowledge Graph instead of hCard for Better User Engagement
Improving search experience to it's users is always a big concern for Google for which test engineers team test various algorithm and update periodically. Cause to this many of the websites get some drop in their ranking as well as traffic too. But Google never wants to say that this is the time to show ranking for new pages but as per Google it require changes that attracts to user to visit websites.
Google recommended earlier publishing people, company, organizations on the web via hCard with the help of simple & open html microformat. Now days this been replacing a new way which is Knowledge Graph.
Using of Knowledge Graph visitors searching over Google with your brand name can see more your company Logo, Company contact number and all of your Social Profile pages links together. This is possible because of using Structure Data customization implementation.
Implementing company Logo in Knowledge Graph: Every company has more than 1 logo (change in size, color combination, tagline etc), but out of them 1 logo will always be their which a company wants to show it's users. So in Knowledge graph you can define that which Logo image you want to display by adding below schema:

Implementing company contact details in Knowledge Graph: Same way any company can show their contact details in Google Knowledge Graph by adding below schema code: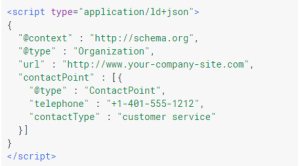 Implementing company contact details in Knowledge Graph: Google defined only some of the social profiles to add within Knowledge Graph. At present there are below mention 10 Social Profiles which encouraged to add in Knowledge Graph-
Facebook
Twitter
Google+
Instagram
YouTube
LinkedIn
Myspace
Pinterest
SoundCloud
Tumblr
For this you can use below schema code to add: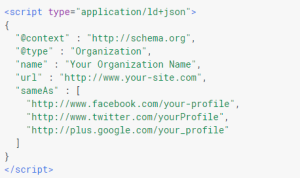 There are some more schema codes available to represent your search result interested. However once you implemented all above steps a final view of your website will be look like as below: