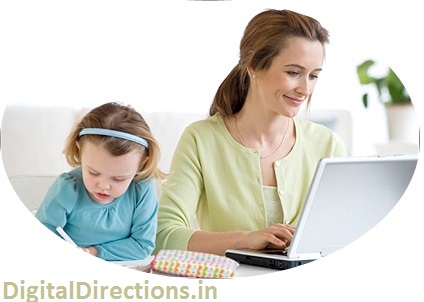 Homemakers and Stay-at-Home Moms can now Earn from Home
Earning a living from home was a distant dream in the recent past. However, with the arrival of internet it has become a possibility for all homemakers and stay-at-home moms to earn money from home while taking care of your family.
Though there are quite a few ways of earning money online from home, we will discuss only the most popular ways. There is no educational qualification required to be successful online. Neither do you need any prior work experience to begin earning with the methods discussed here.
There are women earning successfully through online methods. You do not have to reinvent the wheel; instead you just have to learn what is already being done and give it your own unique style to be able to earn money online.
Here are three most simple ways of earning online for all women especially all homemakers and stay-at-home-moms. You can easily learn these methods and start earning in a short period of time.
Blogging
The simplest and most accessible way of earning money online is to start blogging. You could start a blog related to something you are very passionate about, as writing on a topic you love will come naturally. It could be a blog related to food, exercising, diet, or anything you relate to closely. Think of your blog as a space where people come for seeking solutions or even some meaningful entertainment.
You will have to find your voice which will come only with practice. Writing is only one aspect of blogging. How you promote it is more important. You can learn all about content marketing by reading online or by joining a short course in an institute like Digital Directions.
You could make money by placing relevant ads on your blog. Google Adsense is one such program that pays you for showing ads on your blogs. There are other advertising programs which you can join and start earning money.
Today a successful blogger easily earns from a few hundred dollars to a few thousand dollars.
Just do a Google search for 'successful women bloggers' and you will find many successful bloggers who have turned their hobby into an income generating machine.
Affiliate Marketing
Did you know that you could sell others' products and earn commission on each sale? The commission amount varies. You could earn anything from 5% to 75%. You just have to sell products on behalf of the vendor. Digital products like software, eBooks and eCourses offer a much higher commission than physical products.
All you need to know is how to attract visitors to your website. Simply join an affiliate network like Clickbank or Commission Junction and choose the product that you want to sell. Once you have selected the product, you will be given a link that needs to be placed on your website. If a visitor clicks on the link on your website and buys a product, you will earn a commission.
Affiliate marketing takes time and you should be able to connect to your audience. However, if you compare it with a conventional career, the time required to be successful at affiliate marketing is much less.  With a little training and hard work you can earn excellent money from the comfort of your home.
Freelance Writing
If you can communicate well through words, you can become a freelance writer. With a little bit of practice you could develop your own style of writing that is suitable for an online audience.
Freelance writing requires you to write with a quick turnaround time. You have to write articles on demand. You can easily make $5 to $20 for an article. If you can write 3 to 4 articles each day you can make anything from $20 to $80 each day or more.
You can join freelancing websites as a freelance writer and start earning. However, you will need to build credibility to get projects.
Infact you can start with freelance writing and then move on to the other methods like blogging and affiliate marketing. To earn money online you should become thorough with internet marketing. You can learn all about the above mentioned methods and digital marketing from an internationally recognized institute like Digital Directions.
Visit www.digitaldirections.in to learn about you can earn through Digital Marketing.